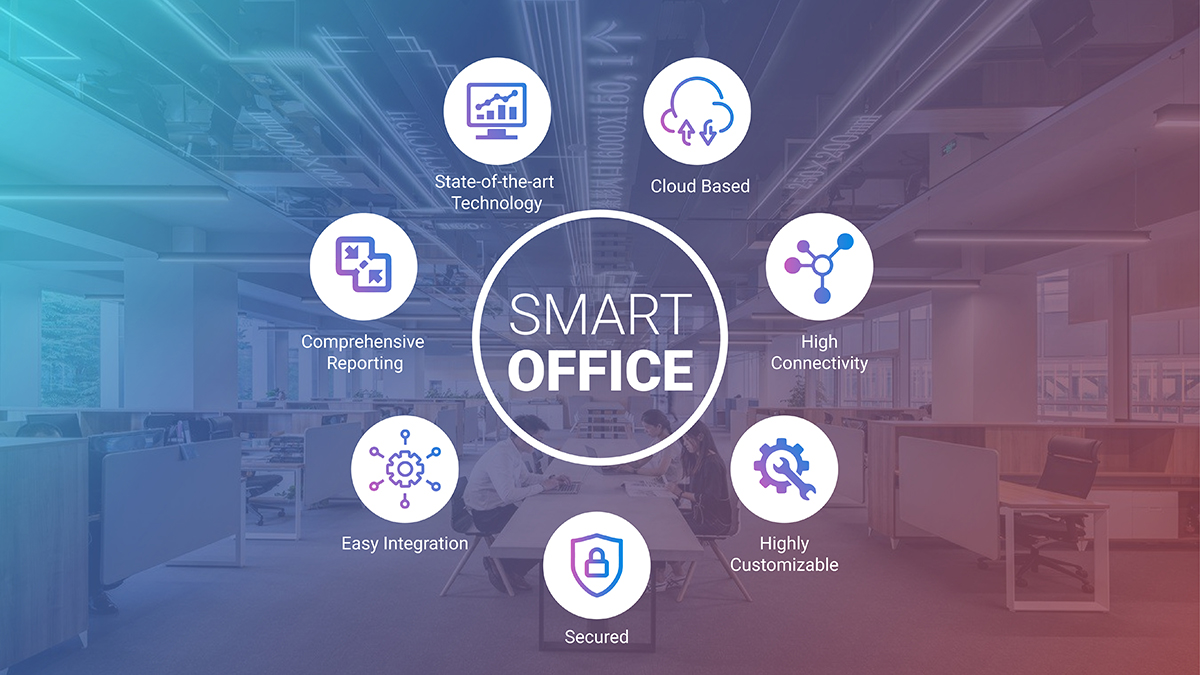 An Innovative Software Solution for an Automated Smart Office Environments
It's very important to manage various functions of the organization using smart solutions as it increases the overall effectiveness due to automation, self-management and digitalization. Smart Office Suite automates various key functions of the organization bringing more control, efficiency, productivity and visibility.

Visitor Management Solutions
Smart Visitor Management Solution helps track visitors, allows selective access to buildings and improves the overall visitor experience.
Reporting module
Automate swing gates, barrier gates
Integrated with the door access

system

Assign/Return passes to visitors/

vehicles

Register/Manage different types of visitor

passes

Create/Manage scheduled visits and

unscheduled visits

Smart Car Parking System
Through state-of-the-art technology, we develop, realize and upgrade parking solutions for a single car through to over a thousand. Our diverse product variants can be adapted to individual requirements and also can be integrated seamlessly with new or existing buildings.
Reporting Module
Smart Self-Payment Kiosks
Automated Vehicle IN/OUT Gates
Real time Vehicle Location Tracking
Automatically Indicates Available Vehicle

Slots

Smart Locker System
Smart Locker, provides the most efficient and cost-effective locker storage system where the layout will be designed specifically for particular environment and space based on our joint assessment of customer needs.
Keyless Lockers
Reporting Module
Remote Locker Accessibility
Hassel Free Locker Management
Can Integrate with Existing Lockers
User-Friendly System with Touch

Interaction

Hot-Desking System
Hot Desking System comes with a user-friendly touch screen panel that enables employees to book workstations at their preference conveniently.
Reporting Module
Easy and Faster Booking Process
Maximum Utilization Working

Stations

Smart and Clean Working

Environment

Smart Cafeteria System
Its more than an ordinary Restaurant Management System. It consists of NFC, Touch Screen Hardware, e-receipts, paperless and user-friendly cafeteria POS system. This solution can integrate with payroll system to calculate salary deduct orders at month end for employees.
Reporting Module
Cashless Cafeteria
Multiple Payment Options
Easy and faster order placements
Food sponsoring and claiming

facility

Track / view employee history of

food usage

Manage daily menus and prices through

admin web module

Smart Attendance Tracking
This automated system used to keep track of check-in/check-out time and office location information of employees on real-time. With active RFID technology, it helps managers to locate employees and keep track of working hours.
Reporting Module
Highly Customizable
Integrate with Existing Systems
Automated Attendance Capturing
Track Real-Time or Past Movements
Visualize Real-Time Employee and Visitor

Count