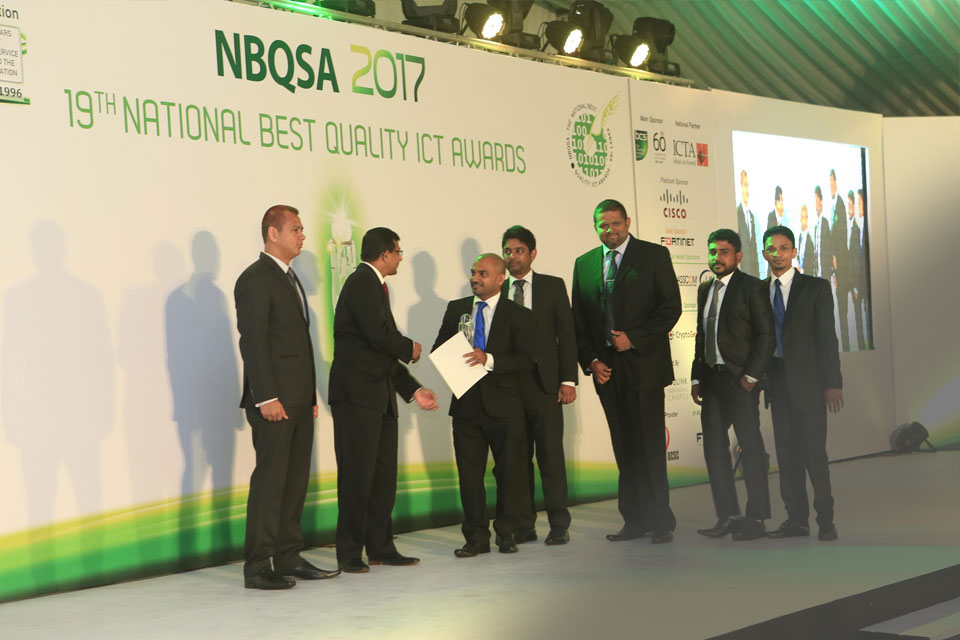 20
October
Eimsky Smart Office Suite Solutions wins hat-trick of awards at NBQSA 2017

With a vision of bringing digital smartness to everyday life and a continuous drive in providing world class customizable software solutions serving multiple industries across Sri Lanka, SE Asia and Australia, Eimsky Business Solutions Private Ltd emerged a tremendous victorious at the recently held National Best Quality ICT Awards (NBQSA) 2017 with its Smart Office Suite being titled the Most Innovative and Best Solution in Cloud Computing Application.
Additionally, the product also won a Silver award in the category including an overall Bronze award. The suite Eimsky Smart Office Solution also got nominated for the Asia Pacific ICT Alliance awards 2017. Eimsky Business Solutions empowers businesses with revolutionary cutting edge IoT solutions to bring real-time visibility into its enterprise.
The company with its recent acquisition by Omobio, the leading telecommunication software solutions provider, offers a state-of-the-art platform for Internet of Things (IoT) with fully configurable software solutions with advanced analytics, RFID hardware platform enabling end-to-end business intelligence and data visibility across multiple industries. Omobio with its years of experience in such domains have helped Eimsky Business Solutions to cater to the growing demand, challenges and complexities that enterprises face globally.
The next generation Smart Office Suite Solution comprise of modules which brings digital smartness to everyday life; smart locker system (cloud based locker management), intelligent hot desking solution , cashless smart cafeteria system, highly efficient RFID/NFC (hybrid) based attendance and visitor management system, NFC based smart kiosk system, automated car parking system, innovative employee and visitor tracking and monitoring system, active RFID based customer loyalty management system, etc.
Mr. Viranga Kekulawala, CEO and Founder of Eimsky Business Solutions (Pvt) Ltd commenting on this achievement, said 'We are proud to be recognized as one of the best in the next-gen tech industry among many other organizations that competed in this prestigious annual awards ceremony. This showcases our passion, drive, and talent in innovative technology solutions and ability to compete in diversified industries and international markets.'
Eimsky Business Solutions in just less than a decade since its inception has today grown to be the first preferred choice in the domestic market for RFID/ IoT based innovative solutions. Its domain expertise on RFID and IoT caters to various domains of business as it evolves in a dynamic world. The company has exhibited an exponential growth in terms of market share both locally and internationally.
Mr. Kekulawala is the brain-child and strategist behind the company with immense and insightful experience having worked on global projects in countries such as Malaysia and UK. He was involved in technical leadership of projects for customization and implementation of Enterprise Solutions and RFID-based Applications for multiple domains, gaining extensive expertise in Solution Implementation Cycle, Solution Architecture, Software Development Life Cycle. He's a CompTIA RFID+ Certified Professional, Microsoft Certified Business Management Solution Specialist, Microsoft Certified Technology Specialist-"Dynamics, Cloud computing Azure, CRM 2011 amongst many others. 
Founded in 2010, Eimsky Business Solutions Ltd has today been able to expand its customer base to several other regions of within a very short period of time. Working together with internationally recognized business partners, the company specializes in smart office solutions, HawkEye360 for apparel industry, next generation asset tracking solutions, smart laundry tracking solution, active UHF RFID tracking solutions, cloud based IOT solutions, barcode solutions amongst many other also including many value added services technologies to maximize revenues. 
Organised by The Chartered Institute for IT Sri Lanka Section (BCSSL), NBQSA is an annual national event where many prestigious, innovative tech companies compete in categories of software, ranging from applications and infrastructure tools software to media and entertainment applications software. It has evolved to an opportune platform exhibiting the country's ICT innovation and talent both locally and globally.
Press Releases and Articles